Newsletters, & Queries
Newsletters are sent regularly to Members by email (news@banburyhistoricalsociety.org) . The most recent six are stored here with the latest at the top. Short BHS Notes are collected on another page (latest on top), as are Reports or Summaries of our Lectures. Queries about Banbury people or places can be sent by anyone to the Website and will be posted here on our Questions page (possibly edited, and latest on top).

========
(Newsletter of 11th June 2020)
Dear all
At this very moment we should have been musing on the insights of George Lambrick into the Rollright Stones - and possibly trying to count them - it is always said that every time you count them you get a different total. However in this time of plague all outings were cancelled as you are all aware. You will by now have received Helen's missive informing you of how we are managing the AGM, and I reiterate that the committee is always keen to receive your thoughts, observations and questions about the way the society is run and what we are doing, so do please send them in.
You may have been wondering whether we were going to have any sort of lecture season this year. We know that some organizations have cancelled or postponed everything for the foreseeable future, but we hope to be able to present a series of lectures of the same high quality as ever. I have now had agreement from all our lecturers that they will be happy to give their lectures via Microsoft Teams. This means that they will be live in the Education Room in the Museum, and we calculate that we could have an audience (maximum 20, suitably distanced) in there too (members would have to sign in advance for these places). The speakers would be delivering their lectures as usual, but there would be a small microphone and camera and members at home would see and hear the speaker as well as see their slides on their own computers at home.
This will not be recorded, so members would have to sign in at 7.30 pm on the Thursday evenings and the signing in passwords etc would be sent out in advance. It will not be like a Youtube video, available to anyone, anytime: it will be for members and at a certain time - but it will mean that far-flung members or those who don't want to travel in the dark will be able to access the lectures. We think that especially after these lock-down weeks everyone will be able to access the internet - it has been so necessary during this time.
I should stress that this is all dependent on the Museum being open and without too many difficult conditions imposed on its operation, but as long as that is the case the lectures will go ahead as described. (Full details are available in the webpages for Lectures and Outings.) We were looking forward to this year's summer outings, so we plan to do these next summer.
We have asked before, and we have gratefully received one offer, but is there anyone out there (with perhaps a bit of plague time on his/her hands) with some IT skills? We could do with some help to deal with the Cake & Cockhorse archive which needs transferring from the Museum website to the BHS one. Ian West has asked me to put out a plea for a bit of extra help and even know-how. (ian42west@gmail.com).
We hope you have all enjoyed the new look Cake & Cockhorse: we are all delighted with how it has come out. Chris Day, our editor, is to be congratulated but he is already anxious about getting enough material for the next issue. Has anyone been whiling away the lockdown hours and days by writing up that research which has been sitting in note form for years? We'd like short and long pieces, so do please send them in.
Stay well everyone, and looking forward to seeing you all again sometime,
Best wishes,
Deborah Hayter
=================
(Newsletter of 7 May 2020)
Dear all
It is a little optimistic of me to head this e-newsletter 'news from BHS' as the news is mostly of things that aren't happening. We should have had the Historical Artefacts Quiz in April and I hope you are all saving your interesting objects for another time. Our summer outings are cancelled along with everything else - with any luck we can do these next summer. Our next BHS volume, a collection and selection of Brian Little's pieces in the Banbury Guardian, edited by Barrie Trinder, has arrived from the printer and is awaiting launch and distribution. You may remember we were due to do that later this month. I hope you are all looking forward to getting your copy.
The first issue of our new, annual, improved Cake & Cockhorse is going to press this week, but again, we don't know when we will be able to distribute it. You will get it as soon as we are able to send it to you.
We now have the programme of lectures fixed for September through to April, and I hope you will all enjoy the variety. We have some archaeology, some local, some further afield, some Roman history, a lecture about the Norman Conquest, the story of an Oxfordshire man of business in the 18th century and an Oxford building firm in the 19th century. We are all hoping, as I am sure you are too, that we shall have some sort of normality by September: if not, it will be doubly annoying, as we have Helen Wass, head of archaeology at HS2, rebooked to come and talk to us for the first lecture of the season. She was booked for last November but had to cancel because HS2, as a publicly-funded body, was covered by the general election rules and she had to go into 'purdah'. If we have to cancel her talk for a second time it will be very disappointing.
I had hoped to send full details of the whole lecture season with this enewsletter, but realized that there is one speaker who has not given me details of the title of her lecture. As soon as I have that I will send out the full programme.
Meanwhile, as we are celebrating the 75th anniversary of VE day tomorrow, Barrie Trinder has sent these memories of of his childhood in Banbury during the war.


Deborah Hayter 7 May 2020
A wartime childhood in Grimsbury.
These recollections were originally prepared for the Banbury Historical Society session on wartime memories in April 2019 which I was prevented from attending at the last minute. The 75th anniversary of VE-Day, when most of our members are in lock-down, seems an appropriate moment to share them. A longer version is expected to appear in a future Cake & Cockhorse. Barrie Trinder.
There were always soldiers at the bottom of our garden when I was very young. I grew up at No 75 East Street in Grimsbury, one of a terrace of 8 houses at the south end of the street owned by the Mander family, once builders in Banbury. Our back garden bordered the field in which Hunt Edmunds Ltd built the roadhouse pub, the Blacklocks Arms. It was completed before the outbreak of hostilities but never opened, and at an early stage in the war it was adapted as a military base. Officers' accommodation appears to have been in the pub building, while soldiers lived in Nissen-type huts around the perimeter of the field. I cannot recollect exactly how many, but there can have been no more than eight, one of which was in the corner of the field immediately beyond our garden fence, and close to the ends of gardens in Middleton Road. Nissen huts were modular and could be of any length, but it is likely that those at the Blacklocks base were long enough only to accommodate a platoon of about 30 men. The huts were demolished soon after the war but the concrete pads on which they stood remained for many years afterwards and served as good cricket pitches since the field itself was undulated with ridges and furrows. Margery Lester in These Golden Days (privately published, 1992) remembered soldiers marching down Middleton Road to their mess in the Blue Bird in Bridge Street. The huts at the Blacklocks could certainly not have accommodated a full-strength battalion.
By repute the first unit to use the Blacklocks accommodation was the Liverpool Scottish who became popular in the town They were succeeded by other units of the British Army, and then, after the United States entered the war late in 1941, by detachments of the US Army. There were constant changes at the base which suggests that it was used as a transit camp. The Americans gave away chewing gum and blocks of chocolate that I now know to have been Hershey bars, as well as cheese that was more appetising than British wartime Cheddar. I remember that on one occasion I returned from morning Sunday School at the Methodist Chapel in West Street to tell my mother than there were 'hundreds'(obviously an exaggeration) of American soldiers in the congregation. This happened only once and shows that there was a rapid turnover of units at the Blacklocks. I understand that the National Archives no longer holds records of small military bases of this kind.
My earliest recollection is of my second birthday in May 1941 when I received a small present from a lodger called Alan, who had been billeted on my parents. He left before my father was conscripted into the army in June 1942. I remember being taken to the station to see him off on what must have been the through train from Wolverhampton to Weymouth. He was travelling to Devizes en route to the Royal Artillery training base at Larkhill, and was pleased to meet a fellow building worker who was going to the same camp. My father was never involved in fighting and went overseas only as far as Northern Ireland, but, as a carpenter, he was drafted to work in the West India Docks in London on the building of a Mulberry Harbour in 1943-44.
In July 1944 my brother Roger was born. He was a perfectly healthy baby and toddler but died of leukemia at the age of six. He was born in the night, and my mother was attended by a midwife, a Mrs Rayner who lived in Park Road. I remember going to the birthday party in Park Road of her nephew who was about my age. I was told that my father learned of Roger's birth through a chance encounter at Bicester North station. He was moving to or from the army base at Bicester when he saw my uncle, my mother's elder brother, who was a railway guard and working the morning pick-up goods train to Ardley.
I have some recollections of evacuees but suspect that the majority had returned to London by the time that I might have been conscious of their existence. Most prominent were Alan Coombs from Wandsworth, who was about my age, and his sister Carol, who had been billeted, with their mother, with Reg Woollard, our neighbour at No 74. Mrs Coombs ran the household and Reg was rarely there, since he combined his job as senior parcels porter at the GWR station with that of transport officer for the St John's Ambulance brigade. Alan Coombs was the only evacuee I remember at school. I think the family stayed until pretty well the end of the war. Two children from London, Jack and Jill Robinson, were billeted at No 73 with a spinster and her aged father but I suspect that they returned home long before VE-Day, as did a pair of twins called Tilly who stayed at No 7 South Street nearby.
I am too young to remember the air raid on Banbury's gasworks and railway goods yard on 3 October 1940, but I do recall sheltering in my mother's room one night when we could hear gunfire outside. This was probably the raid during which, supposedly, bullets intended for the marshalling yard were left in a first floor room at No 25 West Street. There was a large circular water tank for use in the event of bombing outside No 6 South Street and three or more brick-built air raid shelters along the west side of Centre Street. When the siren sounded one night my mother took me to one of the shelters but the all-clear soon went and we returned home. My grandfather, Thomas Upton, who lived at No 72 East Street, retired from the Post Office engineering department at the start of the war, but continued to work doing odd jobs for R J Goodman, the chemist at No 5 High Street, and for George Carter, the monumental mason who ran the Thomas Cakebread business at No 18 Southam Road. He was an Air Raid Warden, and I remember his 'tin hat' and stirrup pump as desirable playthings in his garden shed long after the war.
Going over the bridge with my mother to shop in the town centre was a regular routine. I remember seeing firemen raising money for Spitfires or similar projects at the entrance to the Corporation Yard in Bridge Street. My mother used a variety of shops, chiefly the grocers E & W Dawson at Nos 71-72 Bridge Street, the butcher John E Knott at No 78, and the greengrocer A J Butler at No 49. We purchased our meagre allowance of sweets and chocolate from J H Thornton at No 54. Occasionally we went further to buy knitting wool from Miss Kate Thurstan at No 24 High Street, or to collect coupons for cod liver oil and orange juice at the Municipal Buildings. We bought bread from Fred Warren at 53 Middleton Road, and made occasional purchases at the nearby Co-op at No 43. There were many small shops in the grid of streets that had once been the Freehold Land Society estate in Grimsbury, but the only one we regularly patronised was that in the front room of No 53 kept by Mrs Ellen Hobday probably because we were registered with her for our tea ration. Some traders called at the house, notably the market gardener, Fred Mold of Neithrop, whose small truck came round on Friday afternoons. Another nurseryman, Charles Carter from The Firs at Overthorpe, regularly brought tomatoes to my grandparents on his bicycle.
I was fortunate to be able to start school at the age of three in 1942, and remember being taken to Grimsbury Council School by my cousin from Centre Street, then aged about 13 and in her last year. The reception class was in the charge of Mrs Cooper from 14 West Street, and I remember enjoying the sand tray and the camp beds on which we slept in the afternoons. There were four classes in the infants section of the school. The four classrooms were arranged around a small hall from which a short flight of stairs led up to the 'big school' whose headmaster was Norman Scroxton
Opposite our house were the two-storey premises of John Grant the builder. His father had a steam joinery works early in the twentieth century, but I suspect that the buildings may originally have been a perambulator factory that had a brief life in the 1890s. The building trade was not especially busy in Banbury during the war, and John Grant then employed only a handful of men, but the upper floor of his premises was used as a store by the furnishers Chapman Bros of No 2 High Street, and many mornings we awoke to the sound of furniture being loaded on or unloaded from the company's vehicles, two pantechnicons and a small van.
In wartime it was impossible to travel far. When my father was on leave he took me and my mother on the former Stratford & Midland line from Merton Street station to Northampton where he bought me an overcoat, rather like an RAF greatcoat. My aunt Marjorie Upton was teaching at New Bradwell in Buckinghamshire in the early years of the war but was appointed head of the village school at South Newington. She lived in Vine Cottage at nearby Wigginton, which she shared for a time with her younger sister whose husband was in the RAF, and who had given birth to a boy seven weeks before Roger was born. We went to visit them on several occasions, usually travelling by Midland Red bus, sometimes on one propelled by producer gas carried in a trailer at the rear. On one occasion when no bus was available we walked to the station at Hook Norton to catch the autotrain from Kingham. I also have vague recollections of an afternoon trip by bus to Chipping Warden to watch take-offs and landings at the RAF base, and of a short journey by train for a Sunday School treat at Cropredy.
Any child's understanding of the war was uncertain. I played soldiers with friends, usually directed against German enemies, and remember being thrilled on going home to lunch on 6 June 1944 to hear the one o'clock news account of the D-Day landings. I can still recall the profound shock that went through the school with the news that the father of one of my classmates had been killed, I think in North Africa. Throughot the war I received messages, usually telegrams, from my father's youngest brother who was born in 1918 and was thus in the first group to be conscripted. He was called up not long after I was born and seemed to regard me as a link with home. In 1940 he was in Kent, ready, with insufficient rifles, to repel invasion, and married a Kentish girl in 1941, but was then posted to the Middle East and spent much of the war in present-day Iraq. He sent me one Christmas telegram from Bagdad. Apart from the soldiers at the Blacklocks the most obvious military activity in Grimsbury was the passage of Queen Mary trailers to and from RAF Chipping Warden. One of them collided on one occasion with the horse-drawn wagon on which Albert Brock, greengrocer of No 11 Edward Street displayed his wares. Not much damage was done but the road in front of Nos 145-49 Middleton Road was covered in fruit and vegetables.
And so to VE-Day. I don't recall how the end of the war was handled at school, but the street party in East Street was unforgettable. It was organised by the women of the street who, as I remember it, had no obvious leader. The tables, from the Methodist Chapel, were laid out by the grass verge opposite the junction with North Street. An assortment of chairs was assembled and most households provided cakes or sandwiches. The chairs were mostly occupied by the children of the street while adults stood around and watched. The tables had been cleared bare by the time the photograph of the party was taken. Under rationing a more copious spread was impossible, but any reflection on how children fared elsewhere in the Second World War, in the East End, in Warsaw, in Leningrad (St Petersburg) or in the bombed cities of Germany, shows that my generation was fortunate to grow up in Banbury.
Barrie Trinder.
========
(Newsletter of 2 April 2020)
Dear all
I hope that all our members, near and far, are all in good health and cheerful despite these times of plague. I m sure you will all have realized that along with everything else, our historical artefacts quiz has had to be cancelled, along with the summer outings that we had planned, and the Museum has closed so there is no acccss to the BHs library. We are organizing next season's programme of lectures as usual, and we do hope that there will be a return to some sort of normality by then, as we have Helen Wass, of HS2 archaeology, booked to open the season on 10th September and it would be very annoying to have to cancel her for the second time.

Meanwhile, and to provide something of an historical nature to look forward to, the first of the new revamped, larger annual issues of Cake & Cockhorse was due to be produced and sent out to members some time soon, but you will understand that in the current circumstances that is proving difficult, so as soon as we can we are going to mount it onto the website for everyone to read, and it will be sent out as physical copies in due course when we can.

Also the next Banbury Historical Society publication will be ready soon: Banbury Remembered: looking back 1995-2019 is an anthology of about a hundred of more than 1200 articles written by the late Brian Little for the Banbury Guardian which were a hub for local history in the town and its neighbourhood for more than a quarter of a century. The book, edited by Dr Barrie Trinder, is now with the printers. It runs to more than 250 pages, and is well-illustrated and thoroughly indexed. We had hoped to launch the book in May, but the current emergency makes that impossible, and we look forward to its public appearance in the autumn.

We have another plan for the website which we hope might provide some interest for members. We wondered whether BHS members would like to contribute memories of previous disasters/events/happenings locally or elsewhere. Or it could be your parents' memories of coping with the Spanish flu or other epidemics. We think we will mount these on the website for everyone to share - and they may spark other people's memories. Nothing too long - half a page or a page of A4 will be plenty. To give a flavour of possibilities: I immediately thought of two happenings while I was in my teens, in the 1960s: the first was the campaign to save Brown's Cake Shop in Parsons Street, with which my mother was heavily involved, as the then Chairman of the Oxfordshire branch of the CPRE; and the second was the proposal to increase the size of Banbury to either 45,000 or 70,000. I have a vivid memory of a very rowdy and angry meeting in the Town Hall held to protest at these proposals. What can you all come up with? I look forward to getting some interesting snippets.

We thought of asking members to send in interesting photos: either old photos, or new photos of old/interesting places or events but we have realized that there is a Facebook group called "Banbury's Bygone Pics & Vids Share Site" ​which has a huge number of interesting images and videos on it and a lot of members - perhaps some of you belong to it too? So accumulating a lot of photos on the BHS website seemed too much like the same sort of thing. If you don't already belong, you might like to join to have a look.

Don't forget - they can't cancel spring and it is very cheering!

With best wishes, and I hope you all stay well.
Deborah Hayter
============
(Newsletter of 4th Feb 2020)
Dear all
Next week we have our next lecture, on Thursday 13th February. Claire Millington's title will be "I shall expect you sister" the lives and letters of frontier households in the Imperial Roman Army. Claire has been researching the extraordinary survivals of personal letters between the people at the furthest reaches of the Roman Empire. Successful men from Rome's provinces could command military units on the frontiers. With them went their households, their wives, children, freed and enslaved men and women. These people wrote to each other, using ink pens on thin slips of wood. Extraordinarily, some of these letters survive and offer a glimpse of household life at Roman forts.
Some of you who attended Keith Westcott's talk about the Roman villa and 17th-century hoard at Broughton might remember that someone asked a very intelligent question, which revealed her to be doing a Ph.D. on aspects of the Roman Empire. It was Claire Millington, and as she is local, I booked her to come and give us a talk on her research. We like to be the first to hear about new work. Claire had a roundabout route to her current research: she came from the Midlands, became a diplomat and was posted to Rome. This sparked her interest in Rome's empire, and once back in the UK she embarked on an MA with the Open University, and is now finishing a Classics Ph.D. at King's College, London.

Looking ahead, on April 23rd we are holding another Historical Artefacts Quiz. I am sure that lots of you have interesting old tools/ bits of this and that/artefacts of various kinds which others would like to guess at. This is largely for entertainment and for members to have a bit of interaction. The idea is that members will bring their artefacts/relics, which will be laid out on long tables on the Museum bridge and there'll be wine to help and when all is assembled everyone will try to guess what they all are. When everyone has guessed as many as they can, owners will say what each is and answer papers will be checked. There'll be a small prize for the most interesting object and one for the most correct answers. It won't work unless we have enough interesting objects so please have a think about what you could bring.

We are planning to invite businesses in the town and environs to join us as 'Corporate Sponsors', in return for being listed as supporters in Cake & Cockhorse. If you run a local business, or know of one that might be a likely sponsor, could you please let Helen Forde know? (helenforde1@googlemail.com) .

Our treasurer and membership secretary have asked me to remind all those who do not pay their subscriptions by banker's order that subs became due on January 1st and they would be grateful to receive them. We have to assume that those who do not renew their subscriptions no longer wish to remain a member and do not want to receive the next BHS volume.

We are still looking for a member who would like to help with the editing of the new,larger, revamped Cake & Cockhorse: please don't hesitate to come forward if you think you could help in this way - or do you know anyone else who might be willing? We could also do with someone with some IT skills, largely to manage the Cake& Cockhorse archive. In theory past issues of the journal are available online, but we seem to be behind with this.

For any of you that 'do' Facebook, you might be interested to look at the 'Bygone Banbury' page, where people are posting old photographs, or new photographs of old places. We are wondering whether the BHS ought to be making use of sites such as these?

We are aware that much good local history research is going on in Banburyshire villages and we'd like to encourage members to put their research forward for publication in Cake & Cockhorse. This would give it permanence - as C & CH does go to the libraries, including university libraries.

I am attaching flyers for three events in the Warwickshire bit of Banburyshire: the Warmington Heritage Group have a talk on February 20th on 'The Lost Railway'; on March 14th Tysoe is launching a project 'The Making of Tysoe'; and on 11th February Professor John Hunter will be talking about 'Forensic Archaeology' in Oxhill. More details about all of these on the flyers.

Finally, a link to the OLHA bulletin for February with much interesting information about lectures, exhibitions and events.
All members of local history societies and groups that are members of OLHA are themselves members of OLHA automatically, and this e-bulletin is for everyone. Hence, if you are on the committee of a local history group or society, please make sure that this e-bulletin is forwarded to all your members by sending them this url. Thank you
With best wishes
Deborah Hayter
==============
(Newsletter of 1st Jan 2020)
Dear all
I hope you have all had a peaceful and happy time over Christmas. We are still clearing up the aftermath here but it is time to think ahead and we have our first lecture of 2020 next week on Thursday January 9th. Chris Danziger is going to talk on Peter the Great: architect of a superpower. His lecture will show how Russia's evolution into a superpower was far from inevitable; to create it involved superhuman energy, ambition, and imagination. It also required a brutal indifference to opponents who stood in the way. It is the product of ruthless tyrants whom fascinatingly Russians remember with adulation and love. None was more important in this process than Tsar Peter 1.
Christopher Danzigier is a very popular and long serving tutor in the Oxford University Department for Continuing Education where he teaches European History, specializing in Napoleonic France and Romanov Russia, on both of which he has written extensively. Members may remember his entertaining and fascinating lecture about the relationship between Wellington and Napoleon Bonaparte – including the revelation that Wellington had gone round Europe finding Napoleon's ex-mistresses and sleeping with each one.
You may be interested to know of a lecture being presented jointly by OAHS (Oxfordshire Architectural and Historical society) and the Oxfordshire Record society (celebrating its centenary year) on Tuesday 11th February in Rewley House, OUDCE, Wellington Square, Oxford at 5.30 pm. This will be given by Professor Mark Bailey on the subject of Manorial Records as a Source for English (and Oxfordshire) History.
Professor Bailey will provide a brief introduction to manorial records, including how to find them through a national online catalogue - the Manorial Documents Register. This is currently being updated for Oxfordshire. Hundreds of thousands of these documents survive from the thirteenth to the twentieth century, representing a superb source for local and national history. Examples will be drawn from medieval manorial records in general, and Oxfordshire in particular. Mark Bailey is Professor of Late Medieval History at the University of East Anglia, author of The English Manor (2002), and a member of the Manorial Documents Register Advisory Board. He drew extensively upon manorial records when delivering the James Ford Lectures in British History at the University of Oxford in 2019.
News from the Banbury Historical Society Library: the works to soundproof the room and generally improve it have been delayed so the library will remain closed until further notice. If anyone would like to use it access can be arranged by applying to any member of the committee (Simon Townsend is on site). We'll keep you updated.
Brackley & District History Society will hold its AGM Wednesday 5th February 2020 at 7.30pm in the Methodist Church, Brackley, followed by a talk about the Brackley Morris Men, given by John Weaver.
Suggestions for future lectures, topics and lecturers would be warmly welcomed in the next few weeks when we start to put together the 2020/21 season of lectures.
The Warmington Heritage Group write: "We have always tried to provide top class and really interesting talks…this one is certainly no exception. All our talks are free for members and just £2 for visitors. Membership is still only £10 a year. http://www.warmingtonheritage.com/programme/
Thursday 16th January Warmington Village Hall 7.30pm. Tweets from an ancient desert.
A talk by Michael Macdonald, Honorary Fellow at Wolfson College, Oxford. This is a talk not to be missed. A brief summary of what we can expect:
"Some 2000 years ago when the Romans ruled what is now Syria, Jordan and north-west Saudi Arabia, the nomads in the deserts learnt to read and write. However, since they had nothing to write on except rocks this was not very useful to them except that it allowed them to carve graffiti to pass the time when doing boring jobs like watching over the flocks and herds while they pastured. They left tens of thousands of these graffiti which are like tweets in that they are self-expression in a public area where once it is out you cannot withdraw it. Because they had all the time in the world some of these graffiti are quite long and together they tell us an enormous amount about their society and its relations with the outside world, as well as very personal things. The result is that we know far more about the nomads at this period than we do about the contemporaries in the cities or the countryside where no such graffiti have survived."
A note about the speaker- Mr Michael Macdonald works on the languages, inscriptions, and history of pre-Islamic Arabia and the ways in which literacy was used in the ancient Near East. He has also written on the ancient history of the nomads of the Middle East, the pre-Islamic Arabs, and the rock art of the Syro-Arabian deserts.
At present, Macdonald is the academic director of the "Ancient Arabia: Languages and Cultures" project, based at the Khalili Research Centre in Oxford, which has created a website to make available large amounts of previously unpublished material on the ancient history and languages of Arabia. He is also co-directing a project to create an online Corpus of the nearly 50,000 inscriptions from Ancient North and Central Arabia known so far. Since 2010, he has also been working on the inscriptions found by the Saudi-German Archaeological Mission at the ancient oasis of Tayma in north-western Arabia and preparing a catalogue of the inscriptions in the Tayma Museum. https://www.wolfson.ox.ac.uk/content/1191-mr-michael-macdonald."
Brackley and District
The next meeting is on the 8th January when Mike Luke will give a talk on The Iron Age at Radstone. The meeting will start at 7.30 with refreshments after the talk and any questions. If you know of anyone that would be interested in this talk please pass on this information. Visitors £3 and are always welcome
Deborah Hayter
============
(Newsletter of 4th Dec 2019)
Dear all,
Our next lecture will take place on Thursday December 12th as usual in the Museum. We have Professor Ewan Fernie coming to talk to us and his subject will be Lost Prophets: The Unfinished Dream of the Nineteenth Century. In this lecture, Ewan Fernie will explore the efforts of various nineteenth-century thinkers, artists and activists to imagine and create a morally and politically better world which remains ahead of us even today. We could certainly do with a bit of striving for a morally and politically better world at the moment. This promises to be a very interesting and very different lecture.
Ewan Fernie is Professor of Shakespeare Studies at The Shakespeare Institute, University of Birmingham, and Director of the 'Everything to Everybody' Project, a collaboration with Birmingham City Council which aims to unlock the first great Shakespeare Library in the world for people and communities across Birmingham today. His latest book is Shakespeare for Freedom: Why the Plays Matter.
Before and after the lecture we shall be holding our annual pre-Christmas Book Sale. As always it will be a sale of new books which can be given as Christmas presents, both those published by the Society and by its members individually. Any author who is a member of the Society is invited to bring examples of his or her works. They should be given in at any time after 7.00 pm to Clare and Stephen Jakeman who will be managing the stall. Each book should be marked with its price, and please supply a name and address where any monies can be sent..
A new free exhibition in Oxford presents the findings of researchers who have been investigating how typhoid, which plagued the population of Oxford and still kills many people around the world today, influenced medicine and the design of water and sewage systems. They have shown how the disease was eliminated from the city's streets between the 1860s and the 1940s. This exhibition, entitled Alice in Typhoidland, will be in the new Weston Library in Broad Street from 11th January to 22nd March and will then be in the History of Science Museum over the road until July.
We found ourselves in the Weston Library recently and had a look at the free exhibition there at the moment: this is entitled Talking Maps, and shows a stunning collection of the Bodleian's treasures from its map collection. This is a must for anyone who enjoys maps, especially historic ones: I was particularly pleased to see the enormous map of the open fields of Laxton, Nottinghamshire, as they were in 1635. The fields were recorded in all their multi-stripped complexity by All Souls College, who were the landlords. Laxton is the only place in the whole of the UK still operating an open-field system, reduced it's true from the extent of 1635, but essentially still working as a communally-run open-field system. If you haven't been to see this exhibition, it is highly recommended and on until 8th March.
Finally, don't forget that you are all members of the Oxfordshire Local History Association. December's newsletter is out and to access all its information click this url. The bulletin includes information about several excellent-looking new books which might be good for Christmas presents.

With best wishes
Deborah Hayter
========
Dear all,
Change to next week's lecture - still in Marlborough Road Methodist Church.
Shortly after sending my last message with all the information about next Thursday's lecture I had an email from Helen Wass to say that, with much regret, she wouldn't be able to come and speak to us next week because HS2 and all its works, as a publicly-funded body with a possibly uncertain future after the election, has to go into 'purdah' during the election campaign. Very annoying! However, we have managed to get Wendy Morrison, an archaeologist who has been undertaking some investigations at Steane (near Hinton in the Hedges) , and has also been involved with some major works in the Chilterns and on hillforts, to come and talk to us next Thursday. She had to check the rules but knows that she can talk to us about Steane as that is not publicly-funded. I know that many of you will be disappointed, but we will try to book Helen Wass in for next season and by then there will probably be more investigations and finds to tell us about.
As soon as I have more information - like Wendy's title - I will let you all know.
With best wishes
Deborah Hayter
=======
(Newsletter of 2Nov 2019)
Dear all,
NB next lecture takes place in Marlborough Road Methodist Church.

Our next speaker is a coup for the society. We have Dr. Helen J. Wass coming to talk to us about what the archaeological investigations along the route of HS2 have revealed. This is the largest group of archaeological digs that has ever taken place in this country, and Helen Wass is the archaeologist in charge of the whole lot. An enormous amount of archaeological information has already been unearthed, including some previously unknown sites, and there is lots more to come.
Her lecture is entitled People, Time, Place: the archaeology and historic environment revealed by HS2 and she writes: "Before we build the bridges, tunnels, tracks and stations for HS2 an unprecedented amount of archaeological work will take place – the largest ever programme of investigation in the UK. I will outline the opportunities and challenges that HS2 offers in terms of knowledge creation, engagement and legacy. With site works now underway there will be recent discoveries to share."
We know that archaeology often attracts large audiences, so we have transferred this lecture to the Marlborough Road Methodist church so please make sure you head in the right direction on Thursday November 14th.
Helen Wass' interest in the past started early - she grew up in Northumberland and had many trips to Hadrian's Wall. On HS2 she says that she is really excited about sharing the stories that will be revealed about our ancestors who lived along the route.
I have attached a poster for this lecture in the hopes that some of you might print it out and put it up on a local notice board.
This weekend – November 2nd and 3rd the Steeple Aston Village Archive Trust has an exhibition of old photographs of the village from their archive on display in the village hall. Entry is free, but donations will be welcomed. (Sat 2 – 6 pm and Sun (12 – 4 pm).
On Saturday 16th November there will be a celebration in Banbury Museum to mark the return of the Hornton Anglo-Saxon brooches and beads, dating from the 6th century AD. They were once owned by a wealthy Saxon woman living in Hornton near Banbury, and were discovered in the 1880s. Since then they have been in the British Museum, but now 140 years later they are coming back to Oxfordshire and will be displayed in Banbury Museum.
The brooches will be unveiled formally on November 16th, and at 7pm John Blair, Professor of Medieval History and Archaeology, the Queens College Oxford, will give a lecture on The Early Anglo-Saxons in Oxfordshire: New Evidence and New Ideas, referring to the Hornton brooches.

Tickets £20 per person to include a glass of wine; 6 – 8 pm.
Book through Banbury Museum's website.

There are still some spaces on the OLHA autumn study day on Saturday 16 November at New College, Oxford. The subject is how to use manorial documents for local and family history research. The day will include the launch of the Oxfordshire Manorial Documents Register which contains almost 4,000 references to records from 370 manors.
Further details and on-line booking here. Or download a postal booking form here

The Parish in Wartime: Bishop Gore's Visitations of Oxfordshire, 1914 and 1918 is the latest volume from the Oxfordshire Record Society (ORS). The book, edited by Mark Smith (Associate Professor in History at the University of Oxford's Department for Continuing Education) uses surveys of clerical life in 1914 and 1918 - including information on services, social activities, and size of congregations - to shed new light on the importance of the church in Oxfordshire communities immediately before and during the First World War. It also examines how the conflict proved to be a catalyst for social and religious change thereafter.
Further information and ordering here. The volume is currently available at a specially discounted launch price. Moreover, members of ORS receive a copy for free in addition to other member benefits. As annual membership costs only £18 (and the book retails at £30), this is a good deal.
Finally, the OLHA monthly newsletter for October is now available with information about talks and exhibitions going on all over the county. To access it click this url
With best wishes
Deborah Hayter
=====
(Newsletter of 6 Oct 2019)
Dear all,
This week on Thursday we have the society's second lecture of the season in the Education Room of Banbury Museum. Graham Evans will be talking about The Battle of Edgcote 1469: re-evaluating the evidence. The Northamptonshire Battlefields Society has done much good work researching the battles that have taken place in the county, and 2019 sees the 550th anniversary of the Battle of Edgcote. Often overlooked or misunderstood, the battle had a major impact in both England and Wales. Graham will examine the sources in depth to explain what we actually do and do not know about this apparently obscure piece of medieval history. Edgcote is just over the border in Northamptonshire but is certainly within 'Banburyshire'.
Graham Evans studied Modern & Medieval History at the University of Sheffield. He is the Secretary of the Northamptonshire Battlefields Society, and edits the Society's quarterly newsletter, "The Wild Rat". A regular writer and blogger on military history, his book on the Battle of Edgcote is his first full length publication.
Don't forget the Banbury Historical Society Library - open for a peaceful afternoon's browsing every Wednesday afternoon, 2 - 5 pm.
The Bloxham Village History Club will have their monthly meeting on the 16th October in the Jubilee Park Hall, Barley Close in Bloxham. They have Simon Batten who will be talking about The Colourful life of Ellen Hinde of Bloxham.
I have attached a sheet with all the details of our lectures for the season: if you are also a member of a local or village history society, could you please advertise our talks to the members? Put it on a noticeboard? Circulate information via an enewsletter? I am happy to publicize village society talks and events in return.
Finally, the OLHA bulletin for October has details of all sorts of interesting things happening in the county. To access the full bulleting, click this url.
With best wishes,
Deborah Hayter
========
(Newsletter of 3 Sep 2019)
Dear all,
September is upon us and the academic year begins again and brings with it the first of Banbury Historical Society's lectures on Thursday September 12that 7.30 pm. As before, the society's lectures take place in the Education room of Banbury Museum and the entrance is from the back, from Spiceball Park Road. To celebrate the start of another season we will be providing a glass of wine for members from 6.30 pm, so do come in time for that.
If you saw the list of lectures on the back of Cake & Cockhorse you might be expecting Dr. Eric Sidebottom to talk about the role of disease in world history but unfortunately he contacted me just before I had the programme cards printed to say that he couldn't manage that date after all. I had no time to reorganize the whole programme so slotted myself into the gap. I will be talking about Provision for the poor: the crisis in the parishes in the 18th century. I have taught courses at Oxford about how the poor were managed and supported, from medieval charity to the modern benefit system, and I have often been asked to give lectures to local societies about the Victorian Workhouse. Most people know something about the dreaded Union Workhouse (Oliver Twist and so on), but few people know much about what had happened before that, so I have several times talked about the 17th and 18th centuries instead, which is I think much more interesting. This ties in nicely with our most recent volume of records, Banbury's People in the 18thcentury, which contains some of the Overseers of the Poor records, and I shall be able to refer to those.
During the 17th century the Old Poor Law had seemed to manage to cope with those who were unable to support themselves, and local communities looked after their own poor. However in the 18th century numbers and problems escalated till many parishes were overwhelmed by the demands made upon them. This proved to be a crisis point as the Old Poor Law and the parish system it set up could no longer cope with the growing numbers of unemployed. This crisis is what led to the draconian reforms of the New Poor Law and the Union Workhouses in the 1830s.
I hope all members have now received their copies of Jeremy Gibson's book, and that lots of you have bought Barrie Trinder's latest book: The Midlands Canals in 1871 – the evidence of census. (£14.95). Some of you will remember Barrie giving us a talk about the Oxford Canal and its canal families, largely based on his research into the census, and this book enlarges on that and of course, is based on his vast knowledge of the industrial revolution and all the systems that underpinned it. This book is for sale in the Museum shop,
The new BHS library in the Museum did not open during August, but will now be opening again every Wednesday afternoon from 2 – 5 pm. To remind you, the library contains everything that was ever written about Banbury, is very comprehensive in its coverage of Oxfordshire, and has many volumes, pamphlets and journals from Warwickshire, Northamptonshire and Buckinghamshire too. These are for reference only, no borrowing. In the same room there is an extensive collection of photographs of Banbury and the surrounding villages, which belong to the Museum.
I have been asked to publicize a plea from St. Mary's Church:
Banbury's only Grade 1 listed building needs you.
St. Mary's Church Banbury is looking for volunteers for the Heritage Open days for 13th – 21st September. St Mary's Church, rebuilt by Act of Parliament in the 1790s, replacing an even larger medieval building, is Banbury's only Grade I listed building and its most conspicuous landmark. It was the largest parish church built in England in the 18th century, and remains among the top 1% in terms of size. It has been identified as a 'major parish church' by the Church Buildings Council.
During heritage open days, 13th to 21st September the church will be mounting an exhibition highlighting the buildings history and that of the previous larger medieval church on the site.
We need volunteers to help visitors interpret the building and conduct guided tours and perhaps join a team providing tours in the future. Information and training will be provided.
You don't need to be a church goer or even a Christian. An interest in history will do.
Contact Brendan O'Farrell at ofarrell017@hotmail.com or 07463 739358
Simon Townsend has asked me to publicise a fund-raising event for the Museum in November. For over a hundred years Saxon brooches found in Hornton have been in the British Museum. The Hornton History Group has led a campaign to have these restored to the locality and they will be unveiled in Banbury Museum on Saturday 16th November. Then Professor John Blair will give a lecture about the Anglo-Saxons in Oxfordshire. Some of you will know his book on Anglo-Saxon Oxfordshire: he is one of the foremost scholars of the period and well worth hearing.
Full details and to book your tickets here …
https://www.banburymuseum.org/events/the-return-of-the-hornton-anglo-saxon-brooches/
Finally, here is the link to the OLHA ebulletin for August. Such a lot going on, which you can access via this url.
With best wishes
Deborah Hayter
=====
(Posted 27th July 2019)
Dear all,
This is my last e-newsletter of the 2018-2019 season as we all have August off and then start history again in September.
Thanks to all who came to the AGM which was held on the 11th July in South Newington church. We were sorry not to see Lord Saye and Sele, our president, who usually presides very expeditiously over the AGM, but our Vice-President Barrie Trinder was an efficient deputy for the occasion. Members were able to have a good look at the wall paintings in the church, which have had a lot of restoration work in the last few years, and are beautifully explained in a good series of information boards there. We then walked up the road to the Village Hall, which happens to be an early (1692) Quaker meeting house, for refreshments. The hall has been little altered apart from the addition of modern plumbing and kitchen, and can be easily imagined in its original manifestation.
At the AGM Barrie was able to introduce (even launch) the Society's latest volume,Banbury's People in the Eighteenth Century, by Jeremy Gibson. This is a magnificent work with transcriptions of a number of 18th-century sources. The most important is the Banbury Vestry Book, covering almost the whole of the century and mostly concerned with the administration of the Poor Law, but Jeremy has also included some other documents such as extracts from the records of the Banbury Corporation. There's lots of history in there – and any family historians with roots in Banbury will find it invaluable.
Members who were there at the AGM were able to collect their copies and it would be excellent if some of the rest of you who are local were able to go into the Museum to get yours. Postage is so expensive! If you are able to come into town to collect one they will be held not in the shop but at the desk by the Pye Gallery (the far end of the bridge from the Castle Quay entrance).
BHS members will get Banbury's People for free as it is the latest in our Records Series but Barrie Trinder has also produced a book this summer: The Midlands Canals in 1871 – the evidence of census. (£14.95). Some of you will remember Barrie giving us a talk about the Oxford Canal and its canal families, largely based on his research into the census, and this book enlarges on that and of course, is based on his vast knowledge of the industrial revolution and all the systems that underpinned it. This book will be for sale in the Museum shop, and Barrie will be doing a signing session there on Saturday 17th August from 10.30 am.
Many people have said to us over the years that Brian Little's pieces in theBanbury Guardian would make an excellent book, and his untimely death has spurred us on to do something about this. Barrie Trinder has started the ball rolling and we hope that our next BHS volume will be a collection of Brian's splendid pieces about Banbury as a fitting memorial to him.
You will soon be receiving the summer issue of Cake and Cockhorse, together with your programme card for the 2019/20 season of lectures and activities. We hope that there will be something for everybody therein, and so that you put it into your diaries, the next BHS year starts off with drinks as usual at 6.30 pm on Thursday 12th September followed by Dr. Eric Sidebottom with a lecture entitled 'Rewriting history: the importance of disease in world history'.
Simon Townsend has asked me to publicise a fund-raising event for the Museum in November. For over a hundred years Saxon brooches found in Hornton have been in the British Museum. The Hornton History Group has led a campaign to have these restored to the locality and they will be unveiled in Banbury Museum on Saturday 16th November. Then Professor John Blair will give a lecture about the Anglo-Saxons in Oxfordshire. Some of you will know his book on Anglo-Saxon Oxfordshire: he is one of the foremost scholars of the period at the moment and well worth hearing.
Full details and to book your tickets here …
https://www.banburymuseum.org/events/the-return-of-the-hornton-anglo-saxon-brooches/
Finally, and rather late, here is the link to the OLHA e-bulletin for July. For those of you who still need historical events, expeditions and talks, even in the summer, there is still plenty going on, which you can access via this url.
With best wishes, Deborah Hayter
=====
(Posted 18th July 2019)
Some of our members joined the Banbury People's Park Centenary celebrations on 14 July 2019. Rosemary and Chris Leadbeater, dressed as suffragettes, joined the pre-event procession and Chairman, Helen Forde was interviewed for local radio (Radio Puritan, the official station for Banbury United Football Club). The "lady on the white horse" paraded around the park during the opening ceremony conducted by the High Sheriff of Banbury, Sir Tony Baldry.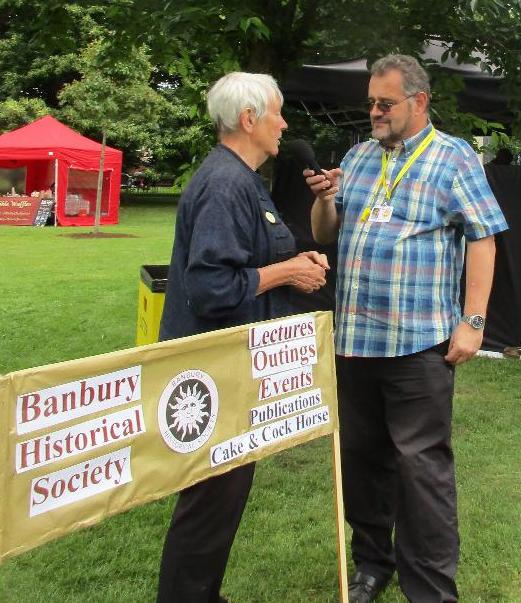 =====
(Newsletter of 2nd July 2019)
Dear all,
This is another reminder that our Annual General Meeting will be held next week on Thursday July 11th at 5.30 pm in South Newington, at the church of St. Peter-ad-Vincula. South Newington is on the A361 halfway between and Chipping Norton and the church is easily found in the middle of the village if you turn off the main road opposite the pub.
As is usual, at our AGM we elect the members of the committee and we are always keen to have new members with new ideas so please do come forward if you would like to help run the society. It is also an opportunity to ask any questions or to make suggestions. If you haven't already seen it, I am attaching the AGM notice and Agenda(**).
After the AGM and a chance to look at the nationally-important wall paintings in the church we shall walk up the road to the village hall for the usual refreshments. The village hall happens to be one of the earliest Quaker meeting-houses in the area.
With best wishes
Deborah Hayter
(** See Members' Documents)
=====
Newsletter of 8th May 2019
Dear all
I hope you have all remembered that the first of our summer outings is taking place next week, on Thursday 16th May. This will be a village visit to Charlton, and will be focused first on Rainsborough Camp, a large iron-age hill fort just outside the village, and then returning to the village proper, we shall look at a blacksmith's forge, still complete with tools, anvil and bellows, and a set of Victorian stables. I shall be leading this, and we shall meet at 5.30 pm at Rainsborough, which is half a mile outside Charlton on the road to Aynho. Parking will be in the field and note that we shall have to walk across a field to reach the fort so sensible shoes or boots if it's wet would be a good idea.
On Thursday June 13th, we have organized a walking tour of Jericho, in Oxford. This was originally an industrial area based on the Oxford Canal. This will be led by David Clark, whom some of you will remember giving us an excellent lecture a few years back. He is an architectural historian with a huge knowledge of Oxford and its buildings and is always worth listening to. We shall meet at 6 pm outside the Oxford University Press building in Walton Street.
New Website: we need our members to keep looking at the new website which Ian West has created for the society. Google still prefers to direct enquirers for BHS to the Museum website (where we have been hosted for some time) but if you persevere you will eventually get to the brilliant new website at www.banburyhistoricalsociety.org. The more members go to it the more likely it is that Google will eventually agree that it is the one. We would very much like to hear your comments on the new site, particularly problems and criticisms. We hope it is clearly laid out, easy to navigate, visually attractive, and provides all the necessary information that you might need.

The new Banbury Historical Society Library: is now open every Wednesday afternoon from 2 - 5 pm and we would like some more members to come along and investigate it. (Upstairs in the Museum). So far there have been few readers and researchers. It is a wonderful resource: it contains everything that was ever written about Banbury, is very comprehensive in its coverage of Oxfordshire, and has many volumes, pamphlets and journals from Warwickshire, Northamptonshire and Buckinghamshre too. These are for reference only, no borrowing.
​There are still a few places left for this coming Saturday, the 11th May, for the OLHA Spring Study Day which will be on Wychwood: the Forest then and now, at New Beaconsfield Hall, Station Road, Shipton-under-Wychwood, OX7 6BQ.
Dr. Simon Townley will be talking on Wychwood Forest 800 – 2000, and Neil Clennell, Chief Executive of the Wychwood Project, will talk about it. In the afternoon there will be a guided walk around Shipton, led by members of the Wychwoods Local History Society, ending at the Wild Garden, which was once part of the grounds of Shipton Court. Click here for further information, and here to book on-line (or download a booking formhere).
​Those of you who are interested in military history, especially local battles, might like to know that the Northamptonshire Battlefields Trust is celebrating (if that's the right word) the 550th anniversary of the Battle of Edgecote. Graham Evans has written a book about it, and we have booked him to come and talk to the society in October about its significance. There is also a conference at the end of July in Northampton and if you click on this link you can see all the information:
https://northantsbattles.com/edgcote-conference-2019/
Edgcote Conference – 2019 – Northamptonshire Battlefields Society - northantsbattles.com
"... bothe the armies met by chaunce, in a faire plain, nere to a toune called Hedgecot ..." To commemorate the 550th anniversary of one of the most misunderstood ...
northantsbattles.com
And we seem to be in a period of battle anniversaries: Cropredy village is celebrating the 375th anniversary of the Battle of Cropredy Bridge on 29th June. Cropredy Village has set up a Facebook page (https://www.facebook.com/cropredy375/) & website to provide further information: http://www.cropredy375.uk/ (work in progress).
​With best wishes, and hoping for a fine day next Thursday

Deborah Hayter
++++++++
Newsletter of 8th April, 2019
Dear all,
Everyone who sees the Banbury Guardian will have seen the very sad news of the sudden and unexpected death of Brian Little. We are all shocked and saddened, and send our very best wishes and condolences to Margaret and the rest of the family. His various publications and his regular weekly columns in the Guardian showed how much he knew about Banbury and its history. He was on the committee of this society for very many years, and its chair for several. We shall miss him very much. There will be a Memorial service for Brian at 2 pm, Wednesday 17th April at St. Hugh's Church, Ruskin Road, OX16 9HU.

Another brief reminder about our session this week on Thursday April 11th. Karey Morley, who leads a regular 'Reminiscences' group in the Museum, is going to lead this session of Oral History, and it will focus on Banbury in World War Two. You may not be old enough to remember it, but you may have memories of parents or grandparents talking about it. Attached is a list of questions: please have a look at these and a think about them. Karey will be playing us some recordings already made, and there will be some informal discussion with opportunities to join in.
New Website: we are so grateful to Ian West who has been working away to create a new website for the society. From today this url, www.banburyhistoricalsociety.org, which used to point to a page on the Banbury museum website, should now take you to our own website. We would very much like to hear your comments on the new site, particularly problems and criticisms. We hope it is clearly laid out, easy to navigate, visually attractive, and provides all the necessary information that you might need.

The new BHS library is now open and if you come along on April 11th early at 6.45 pm there will be an opportunity to have a look around it. Jeremy Gibson, one of the founder members of the society in 1958, gave his extensive library of historical reference works to the society for the benefit of its members when he moved away from Oxfordshire. These have now been housed in purpose-built bookshelves on the first floor of Banbury Museum, and the library is to be open to the public every Wednesday afternoon, 2 – 5 pm, from April 3rd. It contains everything that was ever written about Banbury, is very comprehensive in its coverage of Oxfordshire, and has many volumes, pamphlets and journals from Warwickshire, Northamptonshire and Buckinghamshre too. These are for reference only, no borrowing.
We still need volunteers to man (or woman) the room on Wednesday afternoons. The Wednesdays in April are covered, but if you would like to volunteer in principle – just occasionally, or perhaps one Wednesday a month, could you please contact Helen Forde who is in charge of the rota? (helenforde1@googlemail.com) Volunteering means being on site to open the room, answer any questions, refer to museum staff if necessary, and lock up at the end of the afternoon. An induction session – or more if necessary – will be offered for those who are interested, together with a tour of the library.
The remaining summer activities are as follows:
Thursday 16th May 2019
Village visit to Charlton: iron age hill fort; Victorian stables; blacksmith's forge and more.
Led by Deborah Hayter; meet at 5.30 pm at Rainsborough (half a mile outside Charlton on the road to Aynho); parking for access to the hill-fort. We will be walking across a field to get there.

Thursday 13th June 2019
Walking Tour of Jericho, Oxford: originally an industrial area based on the Oxford Canal. Led by David Clark; meet at 6 pm outside the Oxford University Press building in Walton Street.

Thursday 11th July 2019at 5.30pm.
Annual General Meeting. To be held in South Newington Church. South Newington is on the A361 halfway between Banbury and Chipping Norton. Park where you can in the centre of the village; after the meeting in the church (famous for its wall-paintings) we shall walk up the road for drinks in the village hall which is one of the earliest Quaker meeting houses in the area.
We expect to be distributing our latest records volume at the meeting.

The Oxfordshire Local History Association spring study day will be on Wychwood: the Forest then and now, and will be held on Saturday 11th May 2019 at New Beaconsfield Hall, Station Road, Shipton-under-Wychwood, OX7 6BQ.
Dr. Simon Townley will be talking on Wychwood Forest 800 – 2000, and Neil Clennell, Chief Executive of the Wychwood Project, will talk about it. In the afternoon there will be a guided walk around Shipton, led by members of the Wychwoods Local History Society, ending at the Wild Garden, which was once part of the grounds of Shipton Court.
Click here for further information, and here to book on-line (or download a booking formhere).
BHS book reviewed in Denmark! The Historical Society's latest publication, Barrie Trinder's Junctions at Banbury, has been widely, and generally favourably, reviewed in this country, but it is pleasantly surprising to find a three-page review in a Danish publication, the 2018 issue of Jernbane Historie: Jenrnbanernes Teknologi og Kulturhistorie, which is published by Denmark's Jernbanemuseum. the national railway museum on the island of Funen. This is a well-informed review – the author has obviously seen the remaining pillars of the viaduct at Hook Norton – and makes interesting comparisons between market towns in Denmark and England. The journal is beautifully produced, and extends to just over a hundred pages, with three articles on Danish railways, with summaries in English, as well as other reviews.
There is still time to catch the Spring Exhibition at Banbury Museum – on until 12th May: British Life Photography Awards . This exhibition brings together contemporary and imaginative images that capture the essence and spirit of British life. Discover established and emerging photographers, and understand the relevance of photography in modern life.
Members of the Steeple Aston Village Archive Trust will lead a guided walk around Steeple Aston on Sunday 9 June, 2-4pm. Participants will learn about the buildings, people and stories of this interesting Oxfordshire village. Places are free, but limited, so booking is required. Tea will be provided, for which donations will be welcome. E-mail or phone 01869 347046 for details and booking.
The Open Spaces Society which campaigns to maintain access to public rights of way and common land, is running two more 'Restoring the Record Training Days' These aim to enthuse, enable and empower rights-of-way researchers to make definitive map modification order applications to ensure that routes that would be extinguished in 2026 are saved from the cut-off date. These will be at Wolverhampton Racecourse, Wolverhampton Saturday 13th April 2019 at 9 am and Bicton Village Hall Shrewsbury on Sunday 14th April at 9 am. For further information phone 02476 840515 or email access@bhs.org.uk.
The OLHA bulletin for April is available by clicking this url.
With best wishes, Deborah Hayter
=====